Ted Turner led a successful U.S. defense of the Americas cup on September 18, 1977.
"If I only had a little humility," Ted Turner once confessed in his high-speed Georgia drawl, "I would be perfect." That appraisal might be disputed by Commissioner Bowie Kuhn and others with whom Turner, the suspended owner of the Atlanta Braves baseball club, has feuded. But tonight, as he basked in the glow of a successful America's Cup defense some of his critics had hoped he would not be chosen to make, the so-called Mouth of the South was probably as close to perfection as he would want to come. Read more, NY Times.
Following on the heels of the 32nd America's Cup, the 1977 Cup-winning crew aboard Courageous reunited in August to mark its 30th anniversary. A three-day weekend in Newport, R.I., gave us the chance to reconnect with each other and sail our old 12-Meter once again. I used this rare opportunity to collect their thoughts about our experience three decades ago. Read more Sailingworld.com
Ted Turner was well-behaved as he, Dennis Conner and several other America's Cup greats were among the first class inducted into the National Sailing Hall of Fame.

More than three decades after he was nicknamed `'Captain Outrageous" and `'The Mouth of the South" en route to winning the America's Cup, Turner was neither as he gave a short acceptance speech on Sunday at the San Diego Yacht Club. Read more ESPN.com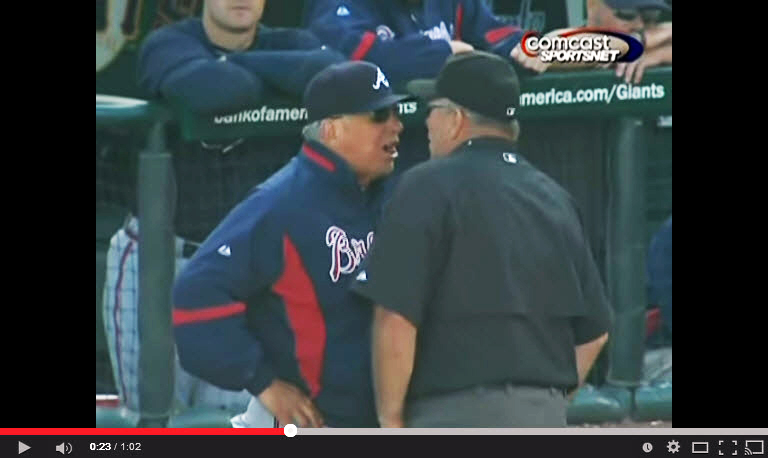 Bobby Cox was ejected for the 158th and last time on September 17, 2010. It was the 152nd game of the season for the longtime Atlanta Braves skipper, who was able to manage his way through remaining ten games of his career without having an umpire inviting to leave.
Cox played two undistinguished seasons for the Yankees in 1968 and 1969, but earned his way into the Hall of Fame on the strength of a 4,508-game managerial career that lasted from 1970 to 2010.
Cox "cruised" past the legendary John McGraw's heave-ho record when he notched his 132nd toss on August 15,2007. At the time, Cox commented, "It means nothing. It just means I've been around for a long time. That's all."
Braves Retire Bobby Cox Number 6 Jersey and he gets tossed a "ceremonial" 159th time
Before OJ Simpson became a household name because of that other thing that happened in 1994; he was a Heisman Trophy winner at USC (1968 season). Simpson was chosen by the Buffalo Bills as the first draft pick in 1969, but his first three seasons in the NFL were somewhat disappointing.
A New Coach and The Juice is Loose!
In 1972 Lou Saban became the coach of the Bills, and he tailored the offense around OJ. That year Simpson led the NFL in rushing with 1,251 yards. In 1971, his previous best season, he only rushed for 742 yards.
On September 16, 1973, in the season opener against New England, OJ rushed for 250 yards, tying the NFL single game record.
Buffalo won the game 31-13 and went on to finish the season 9-5, second in the AFC East, a big improvement over their 4-9-1 finish in 1972.
Playing a 14 game schedule in 1973, Simpson rushed for what was then an NFL season total record of 2,003 yards.
In 1984 Eric Dickerson broke Simpson's record, rushing 2,105 yards, but he did not reach the 2,000 yard plateau until the 15th game of the season. Five other players have also rushed for more than 2,000 yards in a season, but all of them did it in 16 games.
Adrian Peterson now holds the NFL single game rushing record. He ran the ball for 296 yards on November 4, 2007.
The Green Bay Packers played their home opener on September 15, 2013 – against the Washington Redskins. Green Bay Quarterback Aaron Rodgers put on a show for the fans at Lambeau Field. He completed 34 of 42 passes for 480 yards. Four of his throws went for touchdowns, and not a single pass was intercepted.
The rest of the Packers team also had a respectable game, especially running back James Starks who rushed for 132 yards.
This was the only time in history of the NFL when a team had a 450 yard passer and a 125 yard rusher.
Despite his spectacular numbers, it wasn't all smooth sailing for Rodgers. At 9:54 of the first period Washington's Ryan Kerrigan sacked him. On the very next play Kerrigan sacked him again. Then Brian Orakpo got him at 6:06. Maybe the Redskins should have let sleeping dogs lie. At that point Rodgers was having an okay quarter. He had thrown seven passes and completed all but one of them for 76 yards, but he had not yet found anybody in the end zone.
After the third sack Rodgers completed two more passes, but the Packers were short of the first down and punted (with a 3-0 lead). The Redskins followed with their own "three-and-out" and Green took possession again at 3:08. Four plays later Rodgers hit Randall Cobb on a 35 touchdown pass.
For the first quarter Rodgers was 10-13 with a 138 passing yards, and he was just getting started.
In the second quarter Rodgers put on one of the most spectacular passing shows in the history of pro football. He threw the ball 18 times and completed 16 passes for 202 yards and two touchdowns.
The Packers led 24-0 at the half and cruised the rest of the way to a 38-20 win over Washington.
Ken Griffey Sr. and Ken Griffey Jr. hit back to back home runs for the Seattle Mariners on September 14,1990. It was the first and only time in Major League history that a father and son have hit back to back homers.
The Mariners were playing the Angels that night at Anaheim Stadium. (The Angels wound up winning the game, 7-5, in case that matters to you.) Griffey Sr., at the age of 40, started the game for the Mariners in left field, batting second. Junior was in center field, batting third. (Yeah, maybe it was a little bit of a setup.) In the first inning, after Kirk McCaskill walked Harold Reynolds, Griffey Sr. homered to left center. Junior met him at the plate and then made history, hitting another ball out of the park, almost to same spot.
127 runners (126 men and one woman) lined up in Central Park for the start of the first New York Marathon. It was September 13, 1970.
The course was four loops around the park, and the first ten finishers received wristwatches. (Today, the male and female winners receive $130,000.) Race organizer Fred Lebow (1932–1994) used his own money to purchase the prizes. The winner of the first race, Gary Muhrcke, a New York City fireman, finished with a time of 2:31:38, well off the then–world record of 2:08:34 Read More nycgovparks.org
In the 1976 the race moved to its "all five boroughs" course, and drew 2,090 entrants. The Marathon was cancelled in 2012 while New York City was recuperating from effects of Hurricane Sandy, but in 2013 the Marathon was back, with more than 50,000 runners participating.
Sugar Ray Robinson wins back the Middleweight Crown
He knocks out Randy Turpin in the 10th round, in front of 61,000 at the Polo Grounds in New York.
In 1951, Ring Magazine's Nat Fleischer famously described Robinson as "the greatest all-around fighter pound-for-pound in any division." More than 60 years later, many boxing experts today still agree with Fleischer's assessment.
Bleacher Report
Sugar Ray Robinson is credited with being the reason for the creation of the mythical pound-for-pound rankings that today occupy so much of the debate and discussion that goes on in the boxing world.
Boxingnews24
Sugar Ray Robinson. Ali's idol makes number one on my list like every other credible list. Watching him fight was regarded as being " sweet as sugar" and from the brief footage I've seen and from what I've read and heard he deserves top spot. In his first twelve years as a professional he only lost one fight and he avenged it many times over.
Read more at http://www.boxingnews24.com/2014/04/the-greatest-15-boxers-pound-4-pound-of-all-time/#fTGaY4dSvCrfwouk.99
ESPN
"Pound for pound, the best." The claim has been used to describe many boxers, but it was invented for Sugar Ray Robinson.
After stopping Jake Lamotta on February 14, 1951 (The St. Valentines Day Massacre) Robinson won an unanimous decision in a non-title against Holly Mims on April 5 of that year. Four days later (Things were different then.) he fought another non-title bout against Don Ellis, and he knocked out Ellis in the first round.
Robinson fought and won two non-title bouts in April of 1951. Then he sailed to Europe and fought six non-title fights (Paris, Zurich, Antwerp, Liege, Berlin and Torino). On July 10 he lost his title to Randy Turpin in London. Turpin a "Negro Englishman," won a 15-round decision in what was is considered to be one of the greatest upsets in the history of boxing. By all accounts Turpin won the fight decisively.
Robinson had a re-match clause in his contract, so the stage was set for Robison-Turpin II. Here's what Alistair Cooke wrote about the fight in the Manchester Guardian.
Last night Sugar Ray Robinson, tiring to the point of panic before the concrete insensibility of Turpin's massive flesh, wrung everything he had from a brave heart, fought from his finger-tips, and at last had Turpin helpless against the ropes, his arms by his thighs, his stubborn body reeling back and forth like a beaten bull when the flags go in.

I have never seen a human being receive so much punishment with such dumb bravery. For almost a whole minute Robinson crashed and shot and pounded at him until his head sagged from one side to the other with the flopping rhythm of a broken pendulum. An old man sitting next to me lit a cigar with deadly precision, keeping his eyes steadily above the flame on the crumbling Turpin. "Thirty seconds more" he sold quietly. " and we'll have another Flores on our hands." (Flores, the young boxer killed ten days ago by a similar bravery before just such an onslaught.)

It did seem then that Turpin should be rescued to fight another day. If there had been another minute, I do believe that he would have gone down and out for a long time to come. But pride never lacks pretext and unfortunately there were only eight seconds of that round to go when the referee bounded in and scissored his arms to stop the fight Turpin fell on him in a face-down dive, and it seemed to one no more than twenty feet away that it was a gesture of ox-like gratitude.