Bucky Dent- Bucky F!@#$%g Dent October 2, 1978
Bucky Dent was a typical all-glove, no-bat shortstop who became famous for hitting one of the most famous home runs in the history of baseball.
On July 17, 1978, the Yankees lost their third straight game to the Kansas City Royals. Their record at that point was 47-42, which put them in fourth place in The AL East, 14 games behind the division leading Red Sox. At the same time, Boston was on fire, with a 61-28 record.
Then the Red Sox cooled off and went 38-35 the rest of the way. Conversely, the Yankees got hot and won 52 of their last 73 games. The season ended with both teams tied at 99-63. It all came down to a one game playoff at Fenway Park on Oct 2, 1978.
Not what you call a Slugger
Dent was in his sixth Major League season. He was a .255 hitter and had amassed a total of 22 home runs in 2.630 at bats, prior to the one that made him a household name (especially in Boston where he also has an unprintable middle name) when he hit a Mike Torrez slider over the wall in left field. It was a seventh inning, three run homer, that put the Yankees ahead 3-2. Prior to Dent's shot, Torrez had been pitching a 2-hit shut out. The Yankees went on to win the game 5-4. After winning the American League Pennant, the Yankees won the World Series in six games, against the Dodgers.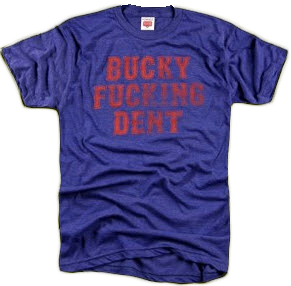 When Bucky hit the ball, I said, "That's an out." And usually you know when the ball hits the bat whether it's short, against the wall, in the net or over the net. I see Yaz backing up, and when he's looking up, I still think he's going to catch it. When I see him turn around, then I know he's going to catch it off the wall. Then the ball wound up in the net.

Excerpt from Remembering Fenway Park: An Oral and Narrative History of the Home of the Boston Red Sox, by Harvey Frommer