Top Ranked, Ralph Sampson Led, Virginia, Shocked by Division II Chaminade

From Sports Illustrated Archives Until recently, Chaminade University was best known, if it was known at all, as the little NAIA school in Honolulu that gave NCAA Division I powers a chance to burnish their suntans, egos and won-lost records on quick trips away from the mainland winter. But that reputation changed forever on the night of Dec. 23, 1982, when Chaminade, a 25-year-old school with an enrollment of 900, beat No. 1-ranked Virginia, a 163-year-old institution with 16,400 students, 77-72.
Bruins Fight With Fans
What started as a run-of-the-mill NHL Style pushing and shoving contest, turned, into an extraordinary audience participation event, with almost the entire Bruins team climbing into the stands at Madison Square Garden. They fought with the Rangers Fans in the not-so-cheap seats, for about five minutes, until Garden Security was able to separate the warring parties.
When it was over, there were no serious injuries reported, although four fans were arrested and charged with disorderly conduct. A month after the melee, the Bruins Terry O'reilly was suspended for eight games. Teammate Mike Milbury was given a six game suspension, as was Peter McNabb. All of the Bruins players were fined $500, with the exception of goalie Gerry Cheevers, who went right to the locker room and missed all the action. As he explained, "I was already on my second beer".
The AFC Divisional Playoff, December 23, 1972. The Steelers are one of the oldest franchises in the NFL, and they have never won a post season game. With 77 seconds left in the game, the Raiders score the only touchdown of the game, on a 30-yard run. Then the Steelers take possession and move the ball to their own 40-yard line. There are 22 seconds on the clock. Watch the video to see what happens next. It's almost impossible to describe. NFL Films calls it the greatest play of all time. Steeler fans call it "The Immaculate Reception".
Sam's Celtics Forum
Bill Russell's first game as a Celtic took place on December 22, 1956. It was a matinee with the St. Louis Hawks at Boston Garden that was televised nationally as the NBA Game of the Week. Attendance at Celtics games had averaged less than 7,000 so far that year. More than 11,000 fans who could have watched at home bought tickets to see the rookie sensation in person.

Bill was a phenomenon if ever there was one, a 6' 10" center with the speed and agility of a guard. He had won back to back NCAA championships and an Olympic gold medal. He had performed the most noble act at the Olympics, giving up his chance to compete for a medal in the high jump, so that a friend could have a spot on the track and field team. Red Auerbach was so impressed that, before the draft, he traded smooth scoring, fan favorite Ed Macauley, an All-Star, and a highly touted prospect, Cliff Hagen, to the St. Louis Hawks to obtain Bill's rights.

George Blanda was the first NFL player to score 2,000 points and is still only one of six players to have reached that milestone. He did it on the last day of the regular season in 1975.
Blanda's rookie season was in 1949, with the Chicago Bears. He played quarterback for them and also was their kicker until his first retirement in 1958. Blanda came out of retirement in 1960, joining the Houston Oilers, as their quarterback and kicker. From 1967 until he retired in 1975, he was the kicker for the Oakland Raiders.
Of the nine head coaches I had, he (Lombardi) was the only one who tried to simplify the game, not complicate it.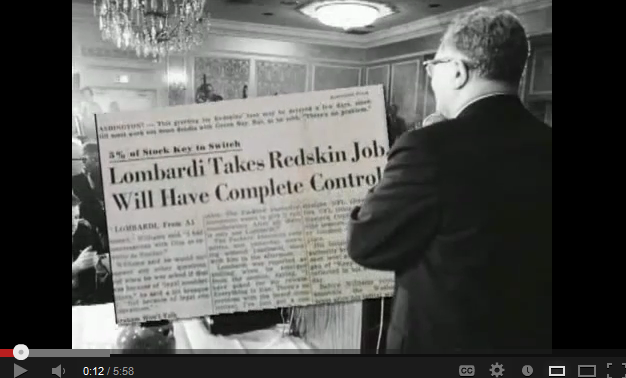 The man who is probably most quoted by motivational speakers, did not end his illustrious coaching career with the Green Bay Packers, the team he led to five NFL championships. Vince Lombardi ended his career coaching the Washington Redskins.
Lombardi stepped down as coach of the Packers after the 1967 season and became general manager for them in 1968.
Returning to coaching for one final season with Washington in 1969, Lombardi worked his magic again, coaxing the hapless 'Skins (They were 5-9 in 1968 and hadn't finished above .500 since 1955.) to a 7-5-2 record.
Lombardi's success with the Redskins wasn't all smoke and mirrors. He did have two Hall-of-Famers on his team, Linebacker Sam Huff and Quarterback Sonny Jurgensen. Jurgensen said of Lombardi, "of the nine head coaches I had, he was the only one who tried to simplify the game, not complicate it."
Whether Vince Lombardi could have taken the Redskins to the same heights he scaled with the Packers is something we will never know. He died at the age of 57, on September 4, 1970; before the start of what would have been his second season as Washington's head coach.
A High School Kid's (Not Always Intentionally) Funny Recreation of the Invention of Basketball

The History of Basketball in 4 Minutes

From Massmoments.org In 1891, the first game of basketball was played at what is now Springfield College. The game was invented by a Canadian, Dr. James Naismith, a versatile athlete, theologian, and physical education instructor, who envisioned "the time when Christian people would recognize the true value of athletics." He designed basketball to occupy a class of disagreeable male students at the Springfield YMCA, who were bored with the calisthenics and children's games in their gym class.

James Naismith was born in 1861 in rural Ontario. Orphaned at eight, he lived with an uncle, helping with farm work and spending what free time he had with a group of local boys. They wrestled, swung from tree limbs, and played "duck on the rock," a game in which one boy placed a stone on top of a big rock and guarded his "duck" while the others tried to knock it off by throwing stones. This game would later play an important part in the origin of basketball.