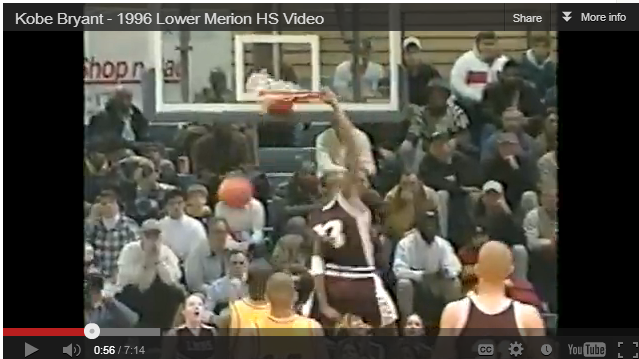 Kobe Bryant in High School, the most dominant player to come out of the Philadelphia area since Wilt Chamberlain
December 7, 1992 The Philadelphia Inquirer
The (Lower Merion) Aces appear to have come up with another blossoming marquee player in Kobe Bryant , son of Joe "Jellybean" Bryant , the former La Salle All-American. Please forgive the enthusiasm of Aces coach Gregg Downer, who knows his 6- foot, 4-inch freshman will play and score, but might not yet know from what position. "We may go to a three-guard offense," Downer said. "And then again he ( Bryant ) may play the "three (small forward)."
April 8, 1995 The Philadelphia Inquirer
No Philadelphia-area players competed last Sunday in the high school All- America basketball game in St. Louis. Before tipoff, however, tournament officials anticipated next year's game, and the athlete they expect will enter it as the nation's No. 1 schoolboy player; Kobe Bryant of Lower Merion, The Inquirer's all-area player of the year.
October 5, 1995 Philly.com
According to his father, Joe Bryant, the La Salle assistant coach and former La Salle and 76ers player, Kobe is accepting no home visits from college coaches and visiting no college campuses. That makes it easy to deduce that next year, Kobe Bryant will play at La Salle or he will play in the NBA.
Read more
May 6, 1996, Sports Illustrated
Bryant, a 6'6″ shuffler—except on a basketball court, where he moves like lightning—ambled up to the podium in a vent-less sport coat and fine dress trousers bought at the last minute and in need of a tailor, his sunglasses positioned on the top of his shiny shaved head. His coat had puffy shoulders, masking his frame, which at 190 pounds is as skinny and malleable as a strand of cooked spaghetti. He leaned his goofy kid's mouth toward the microphone, mockingly brought his fingers to his unblemished chin as if he were still pondering his decision, and delivered the news that insiders had been expecting for a week.
"I've decided to skip college and take my talent to the NBA," Bryant said.
Read more
Dr. J's Top 10 Dunks

When Michael Jordan was only seven years old, Julius Erving (aka Dr. J., The Doctor) was already operating high above the rim. He was electrifying fans, who until then, were more accustomed to seeing the game of basketball played on the hardwood floor.
Wilt is the First Serious Dunker
While Wilt Chamberlain is credited for finally enabling the NBA to draw more fans than Ringling Brothers' Circus or The Ice Capades, "The Stilt" (he despised that nickname) was no fan favorite. Other than in his home town of Philadelphia, Dip was probably the most hated player in the history of the NBA. The Doctor on the other hand, was a whole different story.
You could compare Erving to Willie Mays. Both athletes created so much excitement, even when they played on the road, they made fans screamed with delight. It didn't matter that they were killing the local favorites. Their performances were so spectacular, they drew cheers from the opposing teams' fans.
Before Chamberlain, dunking was rare in the NBA. It was thought of as showboating, or unsportsmanlike. Dunks were even banned by the NCAA from 1967-1976. After Wilt started dunking, his nemesis Bill Russell followed suit. Even if all they did was jump up few inches and shove the ball through the hoop, it was enough of a novelty to bring fans to their feet.
After Doc started playing for the Virginia Squires, a whole new vocabulary evolved to describe what he did. Just as Eskimos have dozens of words for snow, Dr. J. created a new language for dunking, including descriptors such as:
windmill, two hands, alley-oop, cradle, fouline, and behind-the-head, 360, and tomahawk.
Dr. J. Cradle Dunk January 5, 1983
Philadelphia Athletics Historical Society

For the last thirteen years the Yankees have led Major League Baseball in payroll spending, but all streaks eventually come to an end, and this one looks like it's going to end this year.
USA today reports:
NEW YORK (AP) — The Los Angeles Dodgers are on track to become only the second major league team with a $200 million payroll and could end the New York Yankees' streak of 14 years as baseball's biggest spender.
Keeping things in perspective, It's not like the Yankees are about to implement an austerity program. Their 2013 payroll will probably exceed the $198 million they spent in 2012. (which bought them another Eastern Division title, and a quick exit in the playoffs) Thirteen years of spending championships produced only one baseball championship for the blue pinstripes.
Travel a couple stops south from New York, on Amtrak, and you'll find the guys in the red pinstripes, trying to recover from last years' debacle. The Phillies with their $175,000,000 payroll, second only to the Yankees' in 2012, had to finish strong. just to wind up the season at 81-81.
Now stay in Philly, but go back a hundred years or so, and you'll find A's owner-manager Connie Mack and his "$100,000 Infield". "The 100,000 Infield" consisted of Stuffy McInnis at first base, Eddie Collins at second, Jack Barry at shortstop, and Frank "Home Run" Baker at third. All four played for the A's during the 1910 season, but McInnis wasn't a starter until 1911.
Between 1910 and 1914 McInnis hit .321 and was among the league leaders in slugging and on base percentage.
Barry, better known for his flashy fielding, was a serviceable hitter. He had a .260 batting average for the five seasons between 1910 and 1914. In 1913 he was fifth in the AL in RBI's. Barry was sold to the Red Sox in 1915 and wound playing yet another World Series in Philadelphia, as the Sox faced the Phillies and beat them in five games.
Frank "Home Run" Baker is the best example of how tricky it can be to compare athletes from different times. Baker played in the dead ball era, and even though he never hit more than 12 round trippers in a season, he legitimately earned the right to his nickname by winning the American League home run crown in consecutive years, between 1911 and 1914. He was inducted into the Hall of Fame in 1955.
Baseball statistician Bill James, ranks Eddie Collins number two behind Joe Morgan among all second basemen (so much for not comparing ball players from different eras). Morgan didn't play major league ball until 1963, so for about fifty years, James would say that Collins was greatest second baseman in the history of the game. Every year between 1910 and 1914 he was among the top ten in the American League in hits, on-base percentage, stolen bases and batting average. Collins hit.344 during the five year reign of "The Hundred Thousand Dollar infield".
While Mack's infield got the benefit of branding, his no-nickname pitching staff was just as stellar, maybe more so. From 1910 to 1914, his three aces, Eddie Plank, Jack Coombs and Chief Bender, had a combined record of 269-103.
In 1910 the A's team ERA was 1.79. Compare that to the 2012 Yankees staff which posted an ERA of 3.85.
In 1910, Plank was actually the number four guy in Mack's rotation. His record was 16-10 and he had an ERA of 2.01. Cy Morgan was 18-12 with a 1.55 ERA. Bender, sensational at 23-5 with a 1.58 ERA, was bettered by Coombs who was 31-9 and had an ERA of 1.30.
What's most ironic about "The $100,000 Infield" is that the figure probably refers more to the sale value of the four players than it does to their salaries. Hall of Famer Eddie Collins was the highest paid of the group, and made $6,000 a year. Mack probably paid his whole infield less than $25K a year. The average annual salary for a major league player then, was $3,000. Give or take a couple thousand, the entire payroll of the A's came in at around $100,000. Of course you could say there's been a lot of inflation since 1910 and you'd be right, sort of.
A 1910 dollar would buy you $40 worth of goods and services in 2012. So take $100,000 and multiply it by 40 and you get $4,000,000. That's a little less than what Alex Rodriguez will make – – in April. In other words, since 1910, baseball salaries have gone up a lot more than say, pork bellies.
Baseball salaries, as well as the salaries for just about every other professional sport, were held in check until 1975 when the reserve clause was abolished by Major League Baseball. (Football, basketball, and hockey eliminated their reserve clauses shortly thereafter.) Under the reserve clause, when a professional baseball player's contract reached its termination, he had the right to earn his living any way he saw fit, but if he want to play Major League Baseball, only the team that held his contract was permitted to negotiate a new deal with him. Free agent bidding wars which are so common today, did not exist as long as the reserve clause was in force.
The exponential growth in player salaries isn't the only thing that separates the twenty-first century Yankees, Dodgers, and Phillies from their early twentieth-century counterparts. The Dodgers haven't been to the World Series since they beat the A's (from Oakland by way of Philadelphia and Kansas City) in 1988. In the last five years the Phillies have made two World Series appearances. They won it in 2008, but lost to the Yankees who won it in 2009. Since then, none of the highest paid teams has has even made it to the World Series.
The 1910-1914 A's on the other hand, were true champions. With an adjusted-for-inflation payroll that adds up to maybe two percent of the modern high rollers, "The $100,000 Infield" et al, won back to World Series in 1910 and 1911. In 1912 they slipped to third place in the American League. Then they came back and won another World Series in 1913, and one more American League pennant in 1914.
See also MLB Players Support for Curt Flood Suit December 13, 1969