On August 18, 1967, forty-seven years and two days after Ray Chapman was killed by a Carl Mays fastball, Tony Conigliaro was hit in the face by a pitch thrown by California Angels's Jack Hamilton. At the time of his injury, Conigliaro was one of baseball's rising stars. He missed the remainder of the 1967 season and did not play at all in 1968. In 1969, to the surprise of many, he returned to the Red Sox and had the first of two very productive years with them. After being traded to the Angels in 1971, Conigliaro's eyesight worsened and his average dropped to .222. In a failed comeback with the Red Sox in 1975, he played in 57 games and batted .123.
Conigliaro had earned himself the privilege to distinguish himself as the only teenager in MLB history to hit 25 home runs in a season, as well as the youngest player in American League history to reach 100 career home runs.

In fact, according to sabremetrics, when Tony C was 21 years old, the most similar player to him statistically speaking was Mickey Mantle. At the age of 22, it was Frank Robinson, a first-ballot hall of fame electee, as was Mantle.

Injuries were not new to Tony C, who ended his rookie season prematurely in 1964 with a broken arm. If not for that injury, he may have been able to capture Rookie of the Year honors from Tony Oliva.

But after August 18, 1967, Conigliaro would never again be the same.
Read more: Bleacher Report
Last Sunday, when the California Angels were in Oakland and the Boston Red Sox were in New York, Tony and Billy Conigliaro were at home in Nahant, Mass., fishing for flounder in the morning and gloomily catching television accounts of the controversies they had created in the afternoon.

At dawn of the day before, Tony had issued the startling announcement that, at age 26, he was quitting the Angels and ending forever his frequently brilliant but sometimes calamitous seven-year career in the major leagues. He had virtually no vision, he said, in the left eye that was struck by a pitched ball four years ago.
Read more: Sports Illustrated
Dennis Martinez pitched a perfect game on July 28, 1991. Three years later, to the day, Kenny Rogers also pitched a perfect game. Martinez's and Roger's gems were only the 12th and 13th perfect games ever pitched (in the modern era of the Major Leagues).
Since 1994, perfect games have become slightly less of a rare phenomenon. There have been nine perfect games thrown since Rogers did it. The last one was by Felix Hernandez on August 15, 2012.
Cy Young pitched the first and shortest perfect game on May 5, 1904; for the Boston Americans (They weren't known as the Red Sox until 1908.) against The Philadelphia Athletics. The game only lasted an hour and twenty-five minutes. Four years later Addie Joss turned the trick for the Cleveland Naps (Not to be known as the Indians until 1915.
Fourteen years passed before before Charlie Robertson retired all twenty-seven Detroit Tigers, for the Chicago White Sox. Another forty-four years elapsed before Don Larsen threw what is arguably the most famous pitching performance of all time; his World Series perfect game in 1956, against the Dodgers.
There were three more perfect games pitched in the sixties, none in the the seventies, and three in the eighties. Two more perfect games followed Rogers' in the nineties, and since then, there have been seven more perfect games, including three in 2012 alone.
Not until more than 12 years after Jackie Robinson's debut with the Dodgers, did the first black player take the field for the Red Sox.
On July 21, 1959 the Red Sox were in Chicago, trailing the White Sox 2-1, going into the 8th inning. Vic Wertz hit a lead off single for Boston. Then Red Sox manager Billy Jurges, very belatedly, made history by pulling Wertz in favor of pinch runner, Elijah "Pumpsie" Green. White Sox pitcher Dick Donovan retired the next three batters. Then Green took the field and played short stop for two innings. He didn't have any fielding opportunities and didn't get up to bat, as Chicago held on to win the game 2-1.
Green played in 49 more games for Boston in 1959, hitting .239 with one homer and 10 RBIs. He had three more unremarkable seasons with the Red Sox and then wound up his career playing 17 games with the Mets in 1963.
Ironically, Robinson had tried out for the Red Sox in 1945, before Branch Rickey signed him to play for Brooklyn. He went on to lead the Dodgers to six NL pennants and one World Series Win.
In a 1965 Sports Illustrated article Red Sox owner Tom Yawkey had this to say about his team's lack of black players:
"I have no feeling against colored people," he says. "I employ a lot of them in the South. But they are clannish, and when that story got around that we didn't want Negroes they all decided to sign with some other club. Actually, we scouted them right along, but we didn't want one because he was a Negro. We wanted a ballplayer."
Howard Bryant, who wrote the book "Shut Out: A Story of Race and Baseball in Boston", said
The Red Sox were one of the most racist teams in baseball. You've got a 50-year legacy of difficulties between the Red Sox and the African-American population.
Harold Friend for Bleacher Report probably hit the nail on the head. He wrote:
The Red Sox rejected Robinson, Jethroe, and Mays, but selected Pumpsie Green. Only two conclusions are possible. Either discrimination existed or the Red Sox were the most incompetent organization in sports history.
Babe Ruth pitched six strong and one not so strong inning in his major league debut against the Cleveland Indians on July 11, 1914.
The Boston Globe Headline read:
RUTH LEADS RED SOX TO VICTORY: PITCHER RUTH WARMLY WELCOMED BY FANS, BUT CLEVELAND FINDS HIM VERY COLD Southpaw Displays High Class In Game Against Cleveland.
Still going by the name George Ruth, the young Red Sox pitcher held Cleveland to one run and only five hits through the first six innings, as the Sox jumped to a
3-1 lead. The Indians roughed him in the seventh, scoring two earned runs and tying the game. In the bottom of the seventh (Get this!, Duffy Lewis came in to pinch hit for Ruth. The Sox managed to score a run in the seventh enabling Ruth to get the win in his first start.
Last month, one of ten Babe Ruth Rookie Cards was sold for $450,000
The sports memorabilia world is still buzzing over an auction result that can rightly be considered an upset. For the first time ever, a 1914 Baltimore News Babe Ruth rookie card sold for more money than the famed T206 Honus Wagner.

It happened at Robert Edward Auctions (REA), where one of only about 10 known examples of the Ruth card sold for a record price of $450,300. That was nearly $48,000 more than a 1909 T206 Wagner, which was offered in the same grade and was once the subject of an FBI "card hunt" after it was stolen from a restaurant display in the 1990s.
Bleacherreport.com
The Babe Ruth Birth Place and Sports Legends Museum in Baltimore, has another one of the Babe Ruth rookie cards.
Carl Hubbell Strikes Out Five Hall of Famers in a Row – July 10, 1934
Babe Ruth Sold for $100K in 1920. His Shirt sold for $4MM in 2012
Bucky Dent was a typical all-glove, no-bat shortstop who became famous for hitting one of the most famous home runs in the history of baseball.
On July 17, 1978, the Yankees lost their third straight game to the Kansas City Royals. Their record at that point was 47-42, which put them in fourth place in The AL East, 14 games behind the division leading Red Sox. At the same time, Boston was on fire, with a 61-28 record.
Then the Red Sox cooled off and went 38-35 the rest of the way. Conversely, the Yankees got hot and won 52 of their last 73 games. The season ended with both teams tied at 99-63. It all came down to a one game playoff at Fenway Park on Oct 2, 1978.
Not what you call a Slugger
Dent was in his sixth Major League season. He was a .255 hitter and had amassed a total of 22 home runs in 2.630 at bats, prior to the one that made him a household name (especially in Boston where he also has an unprintable middle name) when he hit a Mike Torrez slider over the wall in left field. It was a seventh inning, three run homer, that put the Yankees ahead 3-2. Prior to Dent's shot, Torrez had been pitching a 2-hit shut out. The Yankees went on to win the game 5-4. After winning the American League Pennant, the Yankees won the World Series in six games, against the Dodgers.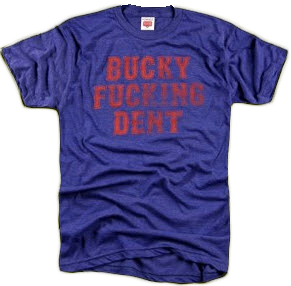 When Bucky hit the ball, I said, "That's an out." And usually you know when the ball hits the bat whether it's short, against the wall, in the net or over the net. I see Yaz backing up, and when he's looking up, I still think he's going to catch it. When I see him turn around, then I know he's going to catch it off the wall. Then the ball wound up in the net.

Excerpt from Remembering Fenway Park: An Oral and Narrative History of the Home of the Boston Red Sox, by Harvey Frommer